Training at home, with limited equipment, can get boring (and fast). Fortunately, it doesn't take much to maintain your existing (or even build new) muscle. Training at home is also a great time to ficus on workouts that emphasize hypertrophy and muscular endurance. And all you need to build capacity is a single dumbbell.
Sometimes, you may only HAVE one dumbbell. Other times, you may be working out with a roommate or partner and splitting a pair, but you'd still like to train together (or compete, we won't judge).
While your particular dumbbell situation will vary by type and weight, we partnered up with CrossFit Trainer Daniel Lynne (follow him on Instagram!) to design seven high-intensity, single-dumbbell workouts to keep your endurance and capacity top notch while away from the gym.
Obviously, your experiences may vary depending on the weight you have available. Keep reading below, and give them a go!
[Related: 8 top athletes and coaches share their favorite at-home workouts when you don't have equipment!]
1. Thruster City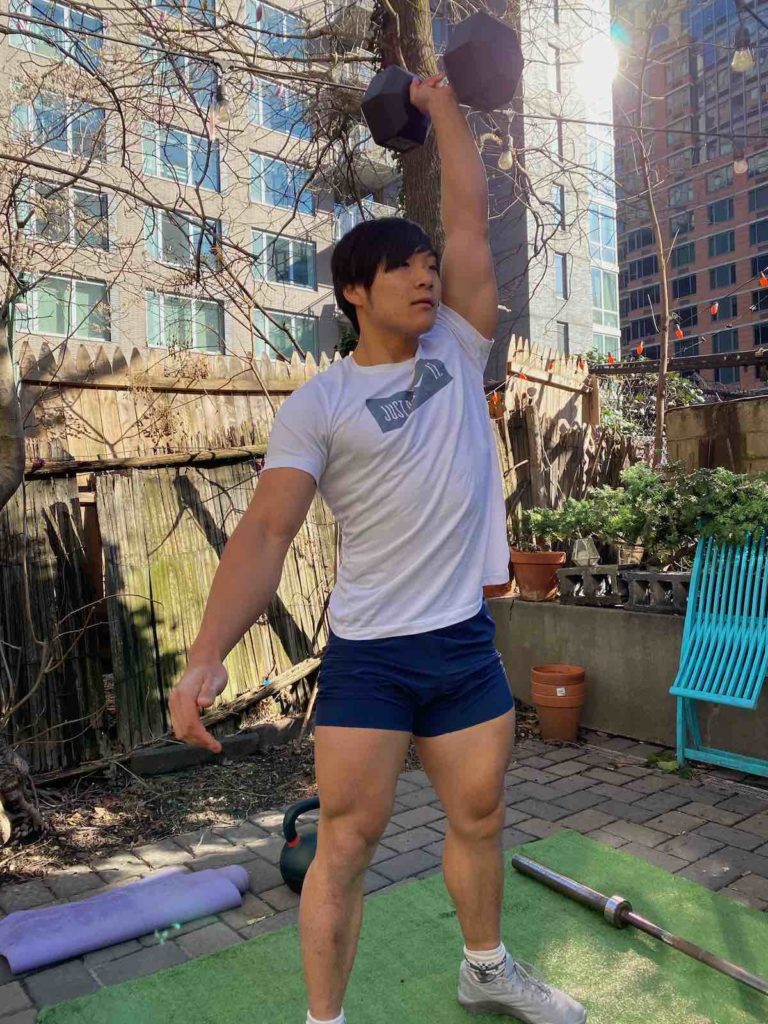 For time:
100 Single-Arm Dumbbell Thrusters For Time (50 each arm, partition as you'd like)
Every 1:00 and at start, 3 burpees
Notes from Dan: I completed this using one 55# DB. In my mind, this should be a 7-9min WOD.
[Looking to keep mixing things up? Here's how to use some basic household items as exercise equipment.]
2. Single-Dumbbell DT
5 Rounds For Time (5 Rounds Each Arm):
15 Dumbbell Deadlift
12 Dumbbell Hang Power Clean
9 Shoulder to Over Head
3. Devil's Press Mayhem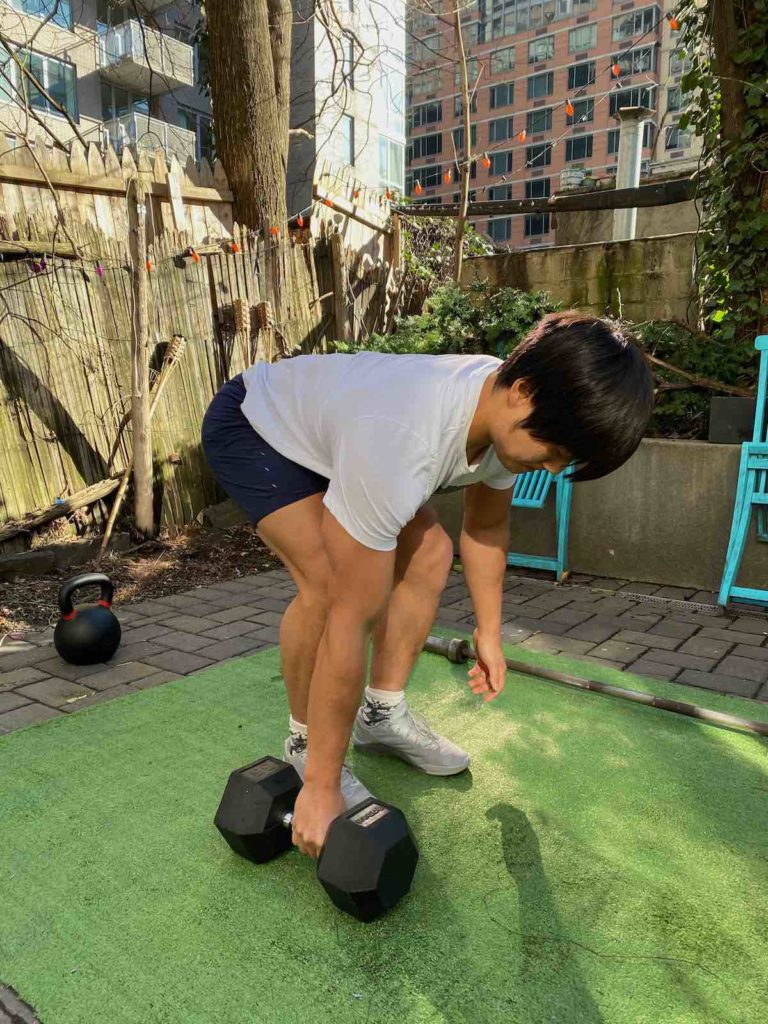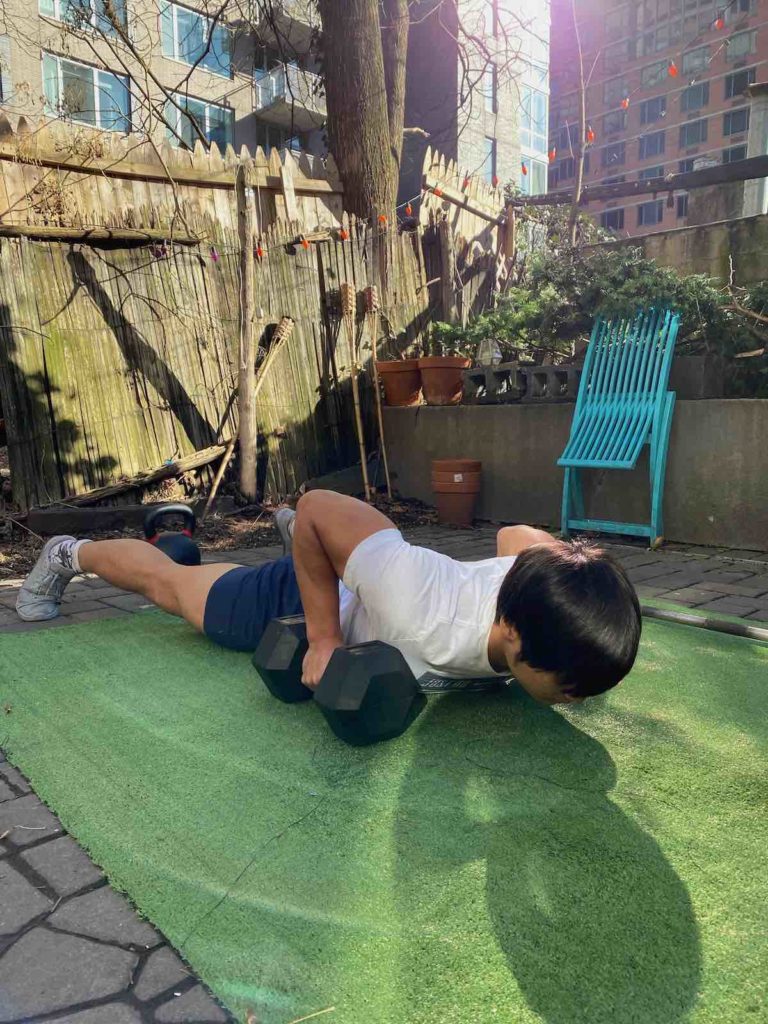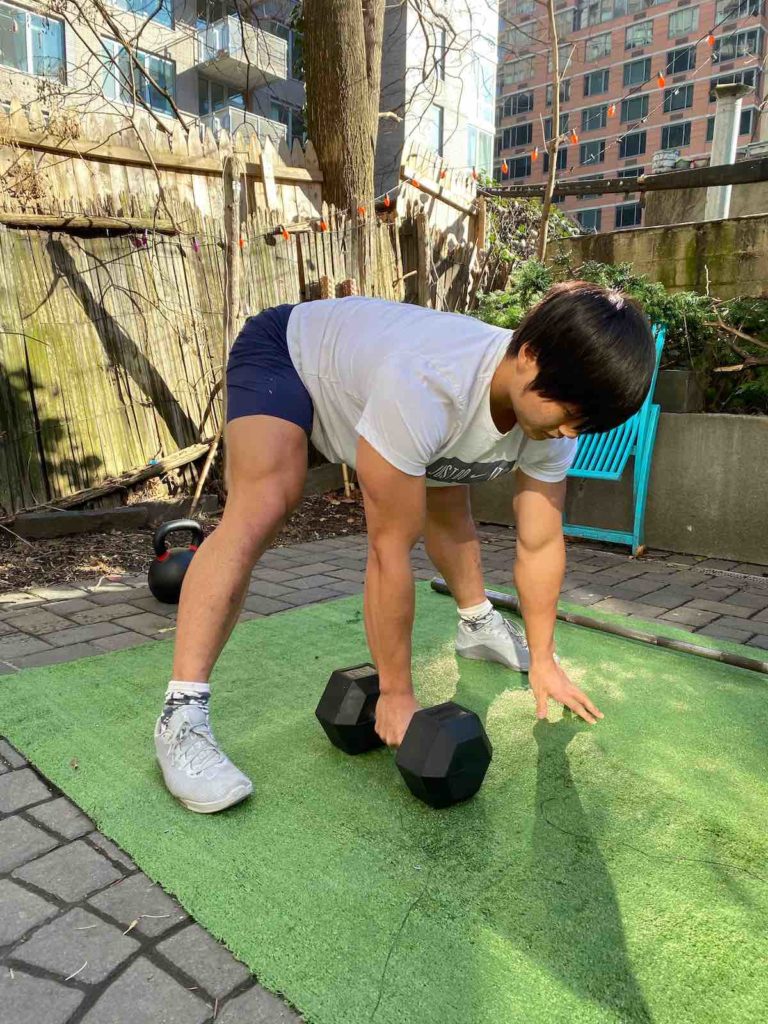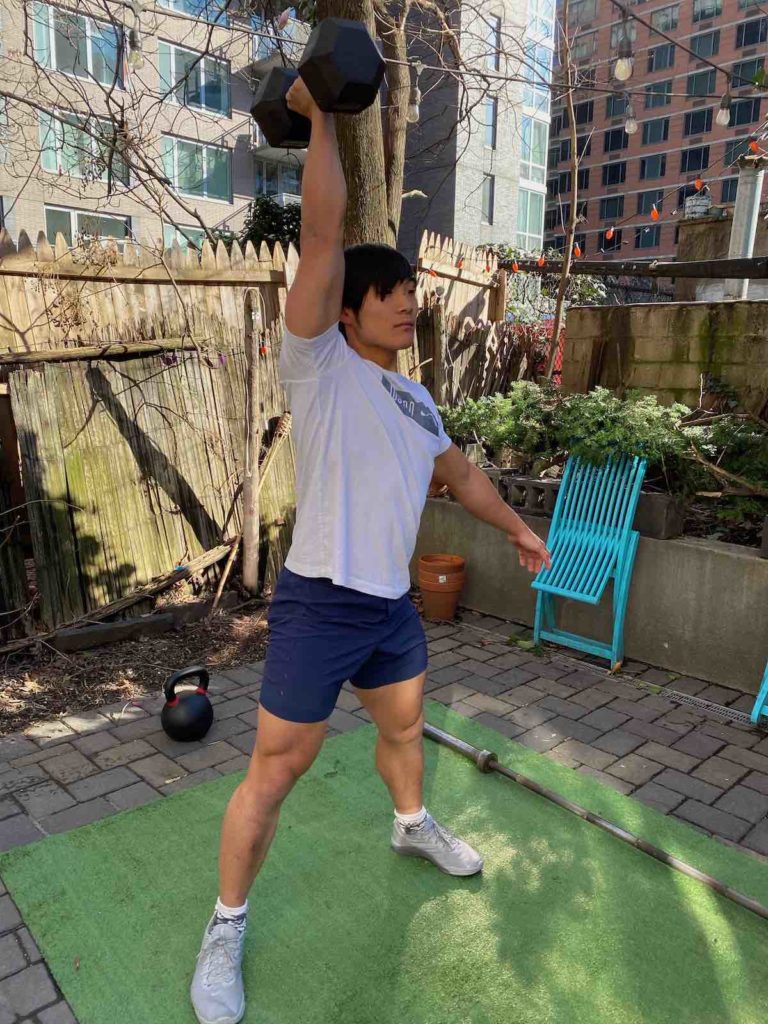 As Many Rounds As Possible in 5 Minutes:
Single Dumbbell Devil's Press (alternate arms every, rep)
Notes from Dan: Completed using one 55# DB. Went at a conservative pace (wasn't sure how bad this would be haha). Did 49 reps.
4. Modified "Cindy"
As Many Rounds As Possible (you pick the time domain):
5 burpee (or strict pull-up if you have access to a pull-up bar)
10 hand release push up
15 goblet squat w/ dumbbell
Notes from Dan: I would recommend this as a 14:00 AMRAP. Something not quite as long as Cindy. 20:00 in my mind would just turn into a lot of resting, whereas the goal for this should be consistent movement.
5. Full-Body Intervals
2 minutes AMRAP, rest 1 minute between sets, 4-5 total rounds:
4 Goblet lunge (alternate legs)
6 Bentover dumbbell row (3 each arm)
8 Dumbbell snatch (4 each arm)
10 S2OH (scale up: overhead squat) (5 each arm)
6. Core Burner
For quality, 5 rounds, rest as needed between rounds:
12 Single-arm floor press (6 each arm)
12 Russian twist
12 Dumbbell windmill (6n each arm)
12 Dumbbell sit-up (scale up: arms extended)
7. Pump Session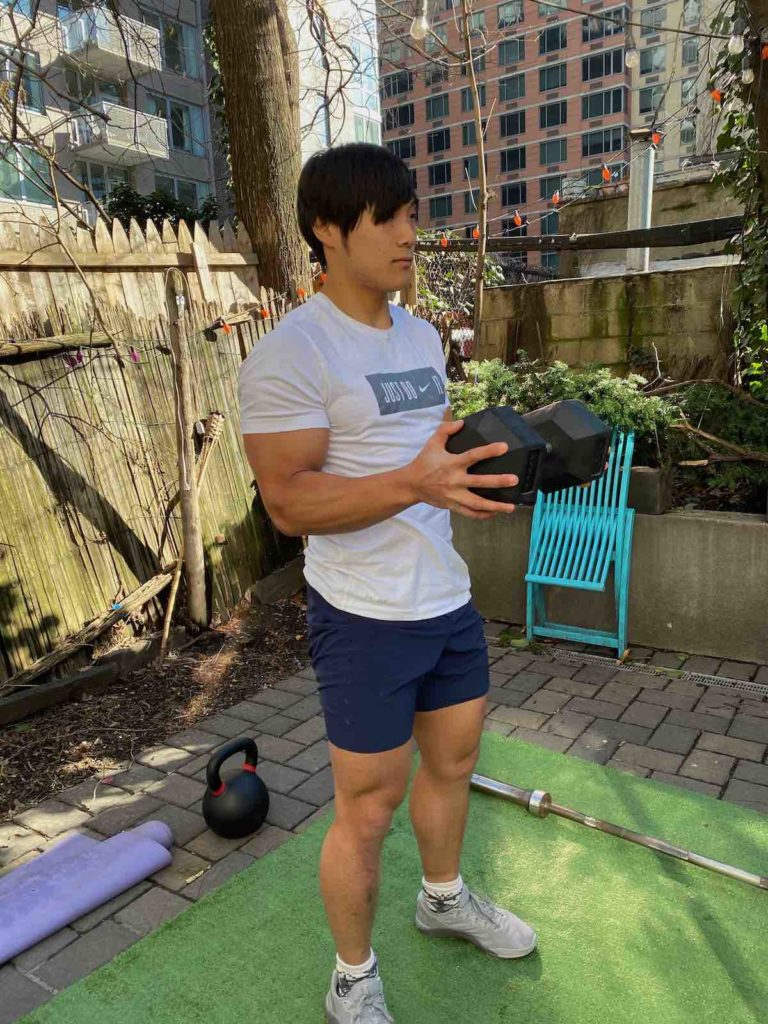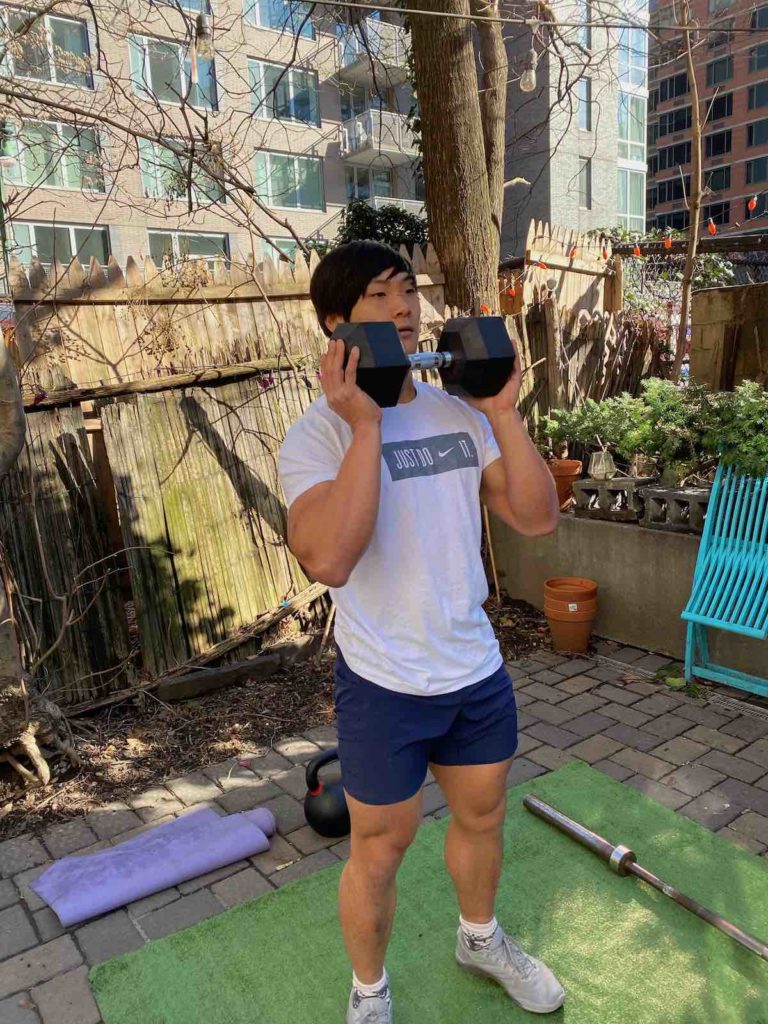 In a descending rep pattern of 10 reps of each movement, then 9 reps of each movement, down to 1 as quickly as you can:
Gun Walk
Single-dumbbell, double-arm overhead press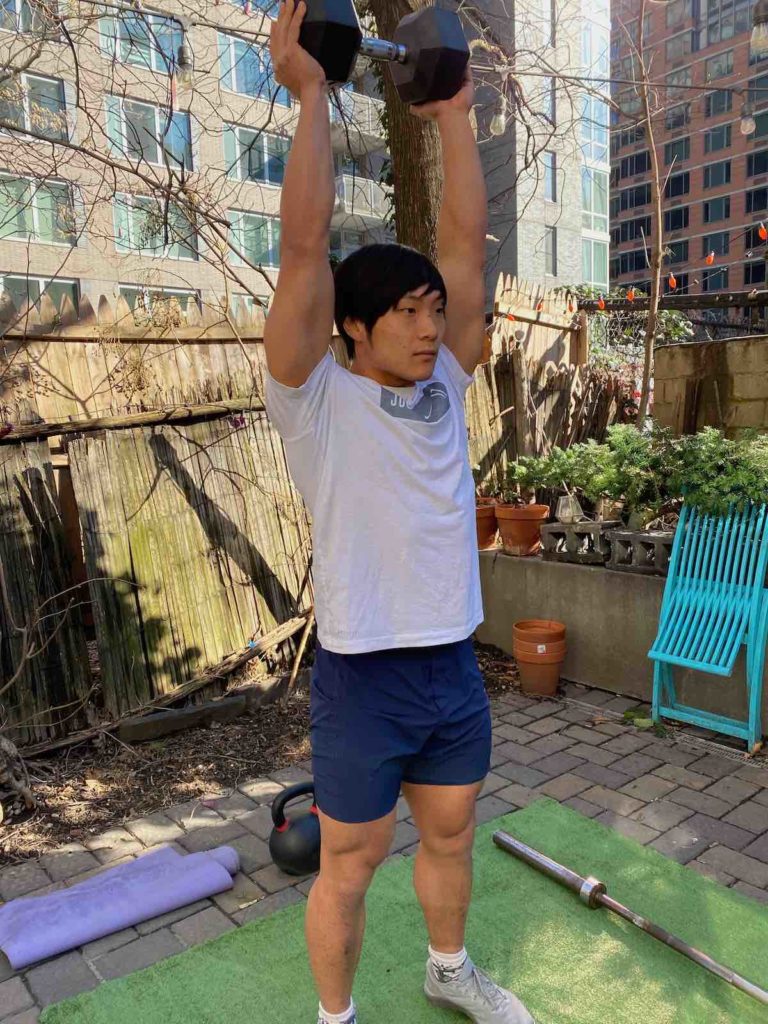 Notes from Dan: Maybe I have weak biceps, but this was really REALLY challenging. I think this is good as is, although you'll definitely have to break more if you have a heavier bell. With 20-30#, it could theoretically be possible to go all the way through.
About Daniel Lynne
Daniel has an athletic background in competitive swimming & water polo and served as a coach for the former. He currently operates out of CrossFit Union Square and CrossFit Wall Street, where he leads group classes and conducts private training. As an athlete, he has participated in several competitive CrossFit-sanctioned events, with his most recent appearance in Miami's Wodapalooza Fitness Festival. He is next slated to compete in New Jersey's Asbury Park Games on an elite team of three in June.
Have more questions on these workouts or want to get in touch with Daniel? Email daniel.lynne15 [at] gmail [dot] com!